DICE FOR LIGHTSのベーシスト竹内クンがプロデュースのオムニバスアルバム、
「PUNKABILLY SHAKES THE WORLD」が入荷しました。
DICE FOR LIGHTSも入ってるし、マブ友達のROBINやSWING KIDSも入ってる~!
買いでしょ?¥2,100-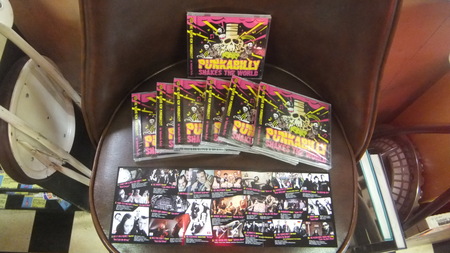 収録内容(トラックリスト) 
1. TOSHI-LOW&Dice For Lights(Japan) "Don't Forget"
2.Tight Fitting Pants(France) "I'm Just A Man"
3. Kitty in a casket(Austria) "Don't Get Me Wrong"
4. The Brains (Canada) Take What I Want
5.Graveyard Johnnys(UK) "Cherylene"
6. Dice For Lights(Japan) "Sing And Shout"
7. Koffin Kats (USA) "Werewolf Syndrome"
8. Peacocks (Switzerland)  "Boring"
9. The Creepshow (Canada ) "Last Chance"
10. Banane Metalik (France) "Murder Party"
11. The Swing Kids(Japan) "JukeBox Hero"
12. Al & the Black Cats(USA) "Move On"
13. The Triggers (USA) "If You Are Not Mine"
14.Cenobites(Netherland) "Don't Talk to Me" feat. Sparky of Demented Are Go
15. Bonsai Kitten(Germany) "Done With Hell" feat. Kofte DeVille of Mad Sin
16. Kogarashi (Japan) "Super Star"
17. The Sewer Rats(Germany) "would it be alright" feat. Sarah Blackwood of The Creepshow
18. Relentless(Finland) "I'm With My Own"
19. Robin(Japan) "Space Ride"
20.The Black Rose Phantoms(USA) "Love You More Dead"
作品の紹介文
 日本代表MELODIC PUNKABILLYバンドのDICE FOR LIGHTSのベーシスト竹内氏がプロデュースし、昨年起きた東日本大震災により被災された方達へ世界各国のPUNKABILLYバンドが哀悼の意を表し集結した、最新型PUNKABILLYコンピレーションアルバム。
日本からはDice For LightsをはじめRobin、凩Kogarashi 、SWING KIDSの4バンド。また全世界で人気のThe CreepShow 、Banane Metalik 、Kitty in a casket、Peacocks、昨年来日を果たしたAL & THE BLACK CATS他を収録。そしてDemented Are GoのSparky、Mad SinのKofte他 豪華ゲスト陣 参加曲を含む 
PUNKABILLYマニアからビギナーまで唸らせる選曲で全20バンド、20曲収録。
収益の一部を寄付させていただきます。
(レーベルより)